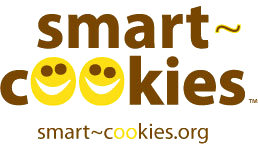 A Powerful Caring Movement Where YOU Are the Vital Ingredient
Smart-Cookies.org is the beginning of an uber-powerful caring movement that YOU can be involved with as a vital ingredient. Let's just say it all started with a woman named Mary Beth Sammons who cares about a rough and tumble Chicago neighborhood where her first generation Irish mom grew up and the story of Christ the King Jesuit College Preparatory High School that lead her back into this genesis to transform the lives of our future leaders.
Smart-Cookies.org began with one email on May 9, 2012. See below. Stay tuned to this website to witness the evolution and revolution that YOU are going to make happen.
Get involved right now! For more information and investment opportunities, contact Mary Beth Sammons at 847.757.3189 or MarybethSammons@aol.com.
The Email That Started It All
Dear "Mom" Friends: (I'm also including guys who want to bake or who support the effort some way :)

No matter what backgrounds they come from, most college freshmen undoubtedly feel the stress and loneliness of college life kicking in within those first few weeks. But imagine this scenario: You're 18-year-old Camille T. You've taken the local bus from Chicago's Austin neighborhood, where drugs, gangs and unemployment are the landscape, to Chicago's transportation hub, and then have to hop on another bus to Urbana-Champagne (carrying all your gear for the semester) where you are entering the University of Illinois as the first member of your family ever to graduate from high school, much less enter college.

Camille is all alone.

The other freshman are arriving at U of I with their moms and dads in SUV's packed with wide-screen TV's, futons, and Vera Bradley travel bags stuffed with Charming Charlie shoes, clothes and cute and pricey bed linens. Camille was raised by her grandmother who is now deceased. Her mom, who loves her, but does not know the world Camille is stepping in to, is a recovering drug addict; her seven siblings were put in foster care most of her childhood and have different dads; she's been bullied through grammar school and the only safe place and community who cares – that she has ever known – Christ the King Jesuit College Preparatory School, is now in your past, miles away.

Multiply Camille's story 53 times. That is the number of students who are the first graduates of CTK. They will march down the aisle on June 9, 2012. This fall they are forging a new frontier, heading off to college – and figuring out how to get there on their own. Most have stories very similar to Camille's. The good news is they are headed to an impressive roster of campuses across the country from U of I to Pace in New York City to Indiana University. But they're kids and the scholarships that may be funding the classes and books don't cover the extras, nor do they take away the loneliness the first few days. I was overwhelmed moving my kids into their college dorm rooms and seeing extras most kids squeezed into those rooms. I couldn't help but well up a bit when Camille told me recently she did a test run by herself, taking public transportation downtown to get on the bus to U of I so she could see how many bags she could carry by herself and imagining her getting off the bus, alone on a college campus.

As many of you know, I have worked with these students at Christ the King during the last four years helping to surface their compelling stories to help raise funds and media awareness. I was hired for a short two-week project, but I feel in love with these teens and couldn't walk away from the overwhelming need each and every one of them have to have someone in their court fighting for their dreams and hopes. Education will be the key that allows them to pursue what only they can only long for. If I could, I would adopt them all. But I can't, so I am asking you to help me send some "mom" loving and support their way.
That's what smart-cookies.org is all about.

I'm asking you to join me in a simple and sweet venture to make a difference. Imagine how much it would mean to Camille if once a month a package with homemade cookies – and a letter of support – arrived in her dorm mailbox. To me, homemade cookies mean love. Think of yourself in college – or your own kids - and the amazing sensation you felt when you ate those cookies and felt somebody cared about you to bake them for you.

Through a grassroots effort I am dubbing: "Smart-Cookies.org: Moms Baking Caring, Connection and a "Taste of Home" to CTK Grads at College."
I'm asking if you will commit to sending one or two (please state your preference) CTK graduates homemade goodies once a month and a letter of support and encouragement. I am working out the logistics for postage etc. and will keep you posted. Right now I just need to find 53 moms (so please share this with friends) and sign them up SOON. E-mail me at MaryBethSammons@aol.com or call 847.757.3189. If e-mailing, lease include your name, address, email, and phone (for the spreadsheet I am creating).

I'm also hoping to send every student off with a Care Package of soaps, shampoos, the little things. I may have found a sponsor for shampoo but if you know of anyone who would want to donate phone cards, etc., please forward as well.

If you have any doubt about how this will make a difference, please look at this clip of Camille on Fox News. And grab a box of Kleenex.

Thanks and looking forward to hearing from you,
Mary Beth
P.S. This is just our first initiative with many more to come.
"If you want to build a ship, don't drum up people together to collect wood and don't assign them tasks and work, but rather teach them to long for the endless immensity of the sea"— Antoine de Saint-Exupery